Clicking each image will bring you down on the page to more info about that site.

A Brief Background Story
In the summer after my junior year of high school my father approached me with an opportunity. He had a file cabinet full of drum sheet music that he had written sitting idly in our home's little music studio upstairs.

After transcribing a few hundred songs throughout the course of his life as a professional drummer he used to offer this sheet music to fellow drummers via a mailing catalogue. He would send the catalogue out to drummers all over the world, who would select which songs they wanted, and mail back the order form so my dad could then mail them back the sheet music.
A great resource, but talk about a slooow process. The catalogue was successful and the drummers loved it (drum sheet music is a commodity to which there isn't a ton of supply for), but the snail-mail system just took so long, especially when dealing internationally, and eventually my dad scrapped it. The sheet music proceeded to collect a few cobwebs up in the studio, with the exception him using some of the songs with his students.
That summer after my junior year my dad said, Kevin, if you want to put that sheet music online and see what happens to it, go for it. And so I did.


I turned the story of my SBI journey from this summer into my personal statement essay for the application that got me accepted into Stanford University. If you're interested
you can check that out here
.
I was a somewhat tech savvy teen, but I didn't know too much about actually creating a full-fledged website. In a moment that I fondly look back on now as a crucial and very fortunate thing, I stumbled across an all-in-one webhost/e-business building godsent called
SBI
. After spending a good deal of that summer getting to know SBI and the world of the Internet (in between baseball games, of course), the rest is history and
www.Classic-Rock-Drum-Charts.com
was born.
Since then I've also created two other web businesses with SBI, which you can see below.
Classic-Rock-Drum-Charts.com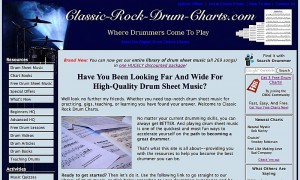 Drum sheet music (aka drum charts) is different than the sheet music of other instruments, like piano and guitar, in that there's not that much of it out there–of high quality at least. This site modestly addresses that, offering several hundred charts my dad has transcribed over the last 40 years.
My father, James Morton, has been a professional drummer since high school, when he played for a band called The Dream Machine that managed to go on tour with The Who just before the latter blew up in fame. Since then he's gone on to publish over a dozen drumming books with Mel Bay Publications, author the column Rock Charts for Modern Drummer magazine, and teach the class "The History of Rock and Roll" at Grossmont College, in addition to hundreds of students out of our home studio.
Today, Classic-Rock-Drum-Charts.com sells thousands of dollars of sheet music each year and provides a valuable and efficient resource for drummers from South Africa to Australia, and Europe to Guatemala. I'm now working on a project to take drum sheet music sharing to a much higher level.
After my first site was well established I decided to branch out with a couple more subjects, and the two sites you see below were built more or less simultaneously.
End-Your-Sleep-Deprivation.com
In my second quarter as a student at Stanford I took a class called Sleep and Dreams from the renowned sleep scientist Dr. William Dement. The class itself is legendary at Stanford–Dr. Dement has taught it for over 40 years and its enrollment fills with hundreds and hundreds of students each year (it's pretty rare at Stanford for a class to have much more than 100 students in it). I really dug the class–from lucid dreaming to sleep paralysis and narcolepsy, the topics were fascinating and it opened my eyes to a mysterious new world that I lived in every night but didn't really know much about. That was soon to change.
That year as my big project for the class I created the website DrowsinessIsRedAlert.com as a place to preserve and display the projects of other students. It was a valuable success and managed even to find the eyes of an international sleep center who used the videos as fun educational material for their younger patients. But my intentions were modest with it, and it was
But I knew there was potential here. Dr. Dement had spent the better part of his life spreading the science and sleep health insights he had discovered, but his mediums included mostly everything except a strong web effort. The outreach projects of his thousands of students were performed, turned in and then gone; his lectures resonating in the air for but one class period and then only surviving through word of mouth; his textbook, the first and only of its kind, unpublished and unavailable to the masses. There was so much material just waiting to be given a global audience. So I made that my job and created End Your Sleep Deprivation.
The approach to the site is somewhat unique in that it is nearly entirely student-made. We have a board of advisers consisting of sleep professionals in the field, and I reach out and draw from the insights of other pros, but other than that everything comes from a student perspective. This has its limitations, yes, but more than anything else it makes it an extremely easy and fun place to learn about sleep science and health. The writing relates to the everyday visitor and the content often takes the form of quirky videos or fun stories. This, in addition to having such a close connection with Dr. Dement, is in my opinion what will set it apart from other informational sites about sleep.
As of writing this, the site contains many dozens of student-created articles on the science of sleep and dreams, as well as hundreds of visitor-submitted stories. It is currently seen by over 25,000 unique visitors every month from all over the world.


Money-Saving-RV-Repair.com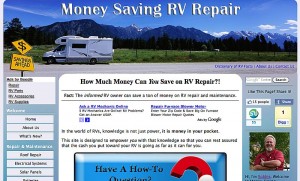 Around the same time I was getting ready to build End Your Sleep Deprivation, I was chatting with my friend Tucker Warford on the way to a poker tournament. He's always been a business-savvy guy, spending many-a-lunchtime during high school in the library trading stocks, for example, and he was intrigued by what I was telling him about e-business success and white hat search engine optimization. His dad's mobile RV service business had also been experiencing a bit of a lull (this was right around the start of the 2008 recession), and Tucker and I thought this could be a great way to stimulate his father's business with a dynamic web presence and provide a valuable as well as profitable information-based site about RV repair.
By now I was getting pretty efficient in building information-based SBI sites, and it wasn't long until Money-Saving-RV-Repair.com was live. The content is devoted to relaying Tucker and his dad's experience in RV repair and do-it-yourself repair advice so RVers can empower themselves to make financially sound decisions when it comes to seeking out professional help.
Compared to the other two sites Money Saving RV Repair is not nearly as comprehensive (Tucker and I have both been full-time students since starting it), but it has a lot of potential for growth and plans for expansion are in place.