Drum sheet music (aka drum charts) is different than the sheet music of other instruments, like piano and guitar, in that there's not that much of it out there–of high quality at least. This site modestly addresses that, offering several hundred charts my dad has transcribed over the last 40 years.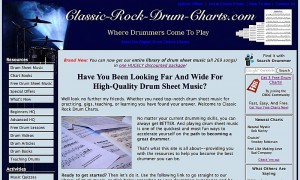 My father, James Morton, has been a professional drummer since high school, when he played for a band called The Dream Machine that managed to go on tour with The Who just before the latter blew up in fame. Since then he's gone on to publish over a dozen drumming books with Mel Bay Publications, author the column Rock Charts for Modern Drummer magazine, and teach the class "The History of Rock and Roll" at Grossmont College, in addition to hundreds of students out of our home studio.
Today, Classic-Rock-Drum-Charts.com sells thousands of dollars of sheet music each year and provides a valuable and efficient resource for drummers from South Africa to Australia, and Europe to Guatemala. With the success of this site, I'm now working on a project that will take drum sheet music sharing to a much higher level, increasing selection and availability enormously.
A Brief Background Story
In the summer after my junior year of high school my father approached me with an opportunity. He had a file cabinet full of drum sheet music that he had written sitting idly in our home's little music studio upstairs.
After transcribing a few hundred songs throughout the course of his life as a professional drummer he used to offer this sheet music to fellow drummers via a mailing catalogue. He would send the catalogue out to drummers all over the world, who would select which songs they wanted, and mail back the order form so my dad could then mail them back the sheet music.
A great resource, but talk about a slooow process. The catalogue was successful and the drummers loved it (drum sheet music is a commodity to which there isn't a ton of supply for), but the snail-mail system just took so long, especially when dealing internationally, and eventually my dad scrapped it. The sheet music proceeded to collect a few cobwebs up in the studio, with the exception him using some of the songs with his students.
That summer after my junior year my dad said, Kevin, if you want to put that sheet music online and see what happens to it, go for it. And so I did.

I turned the story of my SBI journey from this summer into my personal statement essay for the application that got me accepted into Stanford University. If you're interested
you can check that out here
.
I was a somewhat tech savvy teen, but I didn't know too much about actually creating a full-fledged website. In a moment that I fondly look back on now as a crucial and very fortunate thing, I stumbled across an all-in-one webhost/e-business building godsent called SBI. After spending a good deal of that summer getting to know SBI and the world of the Internet (in between baseball games, of course), the rest is history and www.Classic-Rock-Drum-Charts.com was born.