Money-Saving-RV-Repair.com is a website aimed at providing practical information to RVers about the different systems on their RV, the ways in which they can break, and how to best go about repairing them when they do. It offers do-it-yourself guides as well as advice on when to seek professional assistance, written by a professional RV service technician of over 30 years.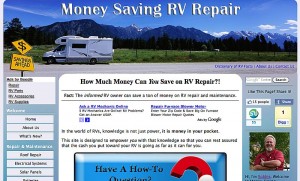 My role on this site is different than on my others in that I do not produce most of the content on Money Saving RV Repair. Instead, I do most of the background technical work–design, layout, editing, publishing, links, SEO, etc.–while my buddy Tucker Warford and his father, Robbie, lend their RV repair expertise for the writing. You can read more about this relationship below.
Money Saving RV Repair is not anywhere near comprehensive yet and there's a lot of content yet to be written. In addition to our other projects, Tucker and I have both been full-time students since starting it, so the development has been slow going. That said, as of writing this its Alexa rating is still in the 600,000s and the site has a lot of potential for growth.
A Brief Background Story – How This Site Came To Be
Around the same time I was getting ready to build End Your Sleep Deprivation, I was chatting with my friend Tucker Warford on the way to a poker tournament. He's always been a business-savvy guy, spending many-a-lunchtime during high school in the library trading stocks, for example, and he was intrigued by what I was telling him about e-business success and white hat search engine optimization. His dad's mobile RV service business had also been experiencing a bit of a lull (this was right around the start of the 2008 recession), and Tucker and I thought this could be a great way to stimulate his father's business with a dynamic web presence and provide a valuable as well as profitable information-based site about RV repair.
By now I was getting pretty efficient in building information-based SBI sites, and it wasn't long until Money-Saving-RV-Repair.com was live. The content is devoted to relaying Tucker and his dad's experience in RV repair and do-it-yourself repair advice so RVers can empower themselves to make financially sound decisions when it comes to seeking out professional help.